With recent studies showing that Kids these days are spending less time outdoors than Prisoners, the message of the Importance of Outdoor Play has become vital.
More children can identify a Dalek than an Owl, and more children are being admitted to hospitals for falls out of Beds than out of Trees. How have we let this imbalance happen & can we reverse it.

Well the answer is YES! And this is the main ethos behind all of our Warrior Camps. Getting children back outdoors, playing within nature & using their imagination. In a world where digital technologies have taken the adventure away from the body, Warrior Camp is fighting back & giving children back the power to find their inner character & confidence to be creative & imaginative.
So WHY is Outdoor Play so important….?
A growing body of evidence is showing that its not how much children know about Nature, but more about What Happens to them when they are in Nature. Doctors, Educationalists, Mental Health Experts & Sociologists are saying that when children Stop going outdoors it can affect their development as individuals, and society as a whole.
Studies from Essex University have shown that just 5 minutes of Green Exercise can produce rapid improvements in mental health & self esteem, with the greatest benefits experienced in the young.
Playing outdoors boosts problem solving skills, focus & self-discipline. And Socially, it improves co-operation, flexibility and self-awareness. Emotionally, it can reduce aggressiveness & increases happiness.
Outdoor play will produce smarter children, better able to get along with others, that are also healthier & happier.
With today's parents finding it difficult to allow children freedom to play outdoors, due to fear of safety, Warrior Camp solves this problem, with supervised play within a nature setting. Bumps, scrapes & nettle stings are all part of life & children need to experience it all in order to learn about both their surroundings AND their own bodies. Outdoor play is also essential for improving the immune system as well as motor skills, the 5 senses & of course, brain function.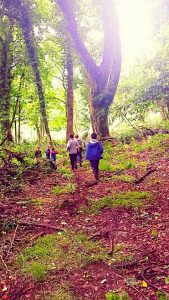 Book into Warrior Camp directly through our website, or call 085 2355284